Apple Watch Goes on Display in Milan, Phil Schiller and Marc Newson on Hand
After being announced to appear at Milan's Salone Del Mobile Design Fair earlier in the week, today the Apple Watch was displayed for the first time to the public, outside of a retail store or pop up shop, at the design fair (via Macitynet) [Google Translate].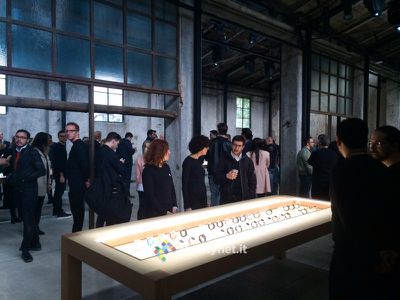 The Apple Watch on display in the Carlo e Camilla restaurant
On display at the Carlo e Camilla restaurant in Segheria, the Watch is displayed in long rows of glass-topped tables, identical to its presentation in Apple's own retail locations. The fair is even allowing customers to experience the same try-on appointments happening in retail stores since pre-orders began one week ago.

Interestingly, as the Watch is displayed at the Carlo e Camilla in Italy, pre-orders for the wearable aren't available to Italian customers due to Italy not being included in the first wave of launch countries for the Watch. There to experience the event is senior vice president of worldwide marketing at Apple, Phil Schiller, and
Marc Newson
, who works part time at Apple as a designer alongside Jony Ive.

Although Apple has yet to confirm pre-order numbers for the Watch, analyst Ming-Chi Kuo believes the device could have sold more than
2.3 million
units during the initial pre-order wave. While the exact number remains a mystery, stock of the Apple watch definitely remains constrained as pre-orders for all devices slipped to a 4-6 week dispatch date, and beyond, only
6 hours
after going live.