Longtime Apple public relations veteran Steve Dowling was today added to Apple's executive page, marking his official promotion to Vice President of Communications.
The role has been open since Katie Cotton retired in 2014, but Steve Dowling has been serving as the interim head of public relations for several months now. His position was initially temporary as Apple searched for other high-profile external candidates, but it appears Apple could not find a suitable external candidate to fill the role.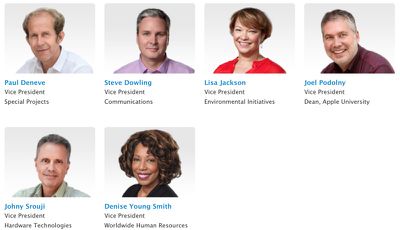 Following Katie Cotton's departure from Apple, Tim Cook was reportedly searching for a "friendlier" PR chief with a "more approachable face" to take over, to continue on with Apple's trend of being more open under Tim Cook's leadership.
Dowling has worked for Apple for twelve years and before taking over Cotton's former role, he served as the senior director of corporate public relations at the company. Before that he worked at CNBC's Washington Bureau for eight years.