Tim Cook Seeking 'Friendlier, More Approachable Face' for Apple with New PR Chief Hire
With the retirement of Apple's longtime public relations chief Katie Cotton having become official as of May 30, the company is now looking for her successor. according to Re/code, Tim Cook is personally overseeing the search and is seeking some external candidates who could put a "friendlier, more approachable face" on the company even as Apple has several in-house candidates who could step into the role.
[T]hough there are at least two well-qualified internal candidates for the job — comms veterans Steve Dowling and Nat Kerris — Apple is also looking outside the company for Cotton's replacement. Sources in position to know tell Code/red that CEO Tim Cook is overseeing the search, aiming to find some high-profile external candidates for consideration. And he's paying particular attention to those he believes could put a friendlier, more approachable face on Apple's public relations efforts.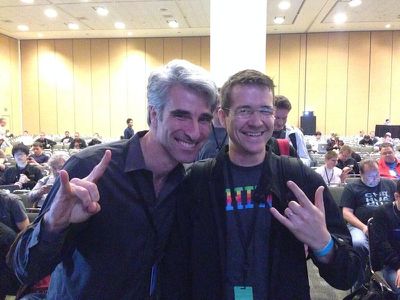 Apple software chief Craig Federighi posed for numerous photos with WWDC attendees (Photo: @alexford)
While there have been signs that Apple has been
opening up a bit
under Tim Cook's watch, that evolution took a significant step forward at last week's Worldwide Developers Conference with the company making a number changes such as
loosening non-disclosure restrictions
on developers and making
session materials
available to the public.
Developers in general reported a much greater feeling of openness from Apple at the event, from the confident and friendly attitudes of Apple's executives and engineers to the developer "love letter" that was WWDC with the host of new tools for helping developers build better apps for iOS and OS X.