Apple Gives Custom Apple Watch With Gold Link Bracelet to Designer Karl Lagerfeld
Several celebrities like Katy Perry, Drake, and Pharrell Williams have been spotted with the gold Apple Watch Edition ahead of the device's launch, but Apple gifted designer Karl Lagerfeld with something even more special -- a custom gold Apple Watch with a gold Link Bracelet.
In an image shared on Instagram by Lagerfeld's assistant and bodyguard Sebastian Jondeau, Lagerfeld wears a yellow gold Apple Watch with the one-of-a-kind yellow gold Link Bracelet, which Jondeau says was "specially made" by Apple.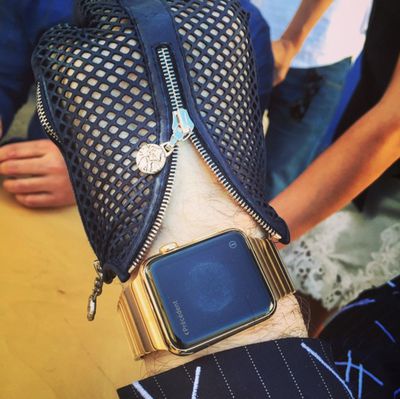 Karl Lagerfeld is a well-known fashion designer who's the head of both Chanel and Fendi, in addition to his own fashion house. Lagerfeld was present at the Apple Watch's first public appearance at French Parisian boutique Colette and as a style icon, he could be an important asset for Apple's Apple Watch marketing efforts.
Though there's a Link Bracelet for the Silver and Space Black stainless steel Apple Watches, Apple did not make a similar band available for the gold Apple watch Edition, presumably due to price and the sheer amount of gold that would be necessary for such a band. The existence of a custom gold Link Bracelet does, however, suggest that such a band could be made available to the public in the future.
Just the gold used in the Modern Buckle band raises the price of the Apple Watch Edition from $10,000 (with Sport band) to $17,000, so the price of a pure gold Link Bracelet would likely be upwards of $25,000. The Link Bracelet for the standard Apple Watch is priced at $449 and is Apple's most expensive band.
As we creep closer to the April 24 launch of the Apple Watch, we may see more custom designs like this on the wrists of celebrities and other fashion designers as Apple hopes to use these influencers to convince people to drive Apple Watch sales.
(Thanks, John!)