Apple Watch Makes Reality TV Debut on 'The Voice' Judge Pharrell Williams' Wrist
Just a few days before the Apple Watch is available for pre-order on April 10, the device has been spotted in what seems to be its first TV appearance. The Watch, which appears to be the stainless steel version with a white sport band, is on the wrist of musical artist Pharrell Williams as he judges on NBC's singing competition show The Voice. It's likely this marks the first time a non-Apple employee wore it on national TV.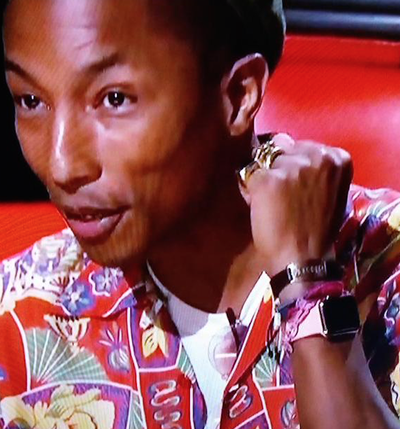 Thus far, Apple has carefully curated the Apple Watch's image and has exercised control on how the device is portrayed in media. Apple's marketing efforts have so far been split between posing the Watch as a fashion statement and fitness accessory. Williams is often known for his unique style,
recently winning
the Fashion Icon Award from the Council of Fashion Designers of America.
The fitness side of the Apple Watch has been promoted on the covers of fitness magazines like Fitness Magazine on the wrist of Kate Bock, Self magazine on the wrist of Candice Swanepoel and model Christy Turlington as she writes about how the Watch helps her train for a marathon on a personal blog on Apple's website. The fashion side of the Apple Watch has been on display in magazines like Vogue, Style, East Touch and YOHO. It was also shown off at an exclusive event at Parisian boutique Colette.
As the launch of the Apple Watch gets closer, and people are able to try them on within Apple Stores, it's likely the device will continue to appear on TV, magazines, billboards and more as Apple attempts to market the device to a wide variety of potential customers. The Apple Watch will be available beginning April 24, but will be available for pre-order and in-store try-ons starting April 10.
Update: Williams has also posted a brief Instagram clip of the watch in action, with the watch actually appearing to be a gold Edition model.