Apple Working on New Beats Music Service Integrated into OS X and iOS, Available on Android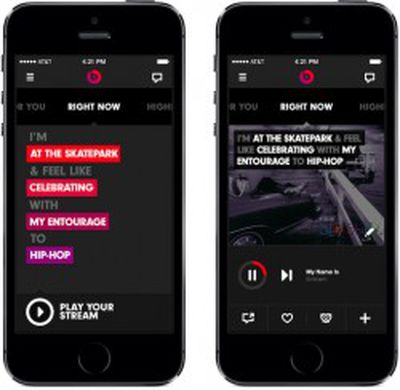 Apple is working on a new Beats-based paid music streaming service that will be deeply integrated into iTunes on Mac and the stock Music app for iPhone, iPad and iPod touch, according to 9to5Mac. The report claims that the Apple-designed streaming service will also be available for Android and through a new Apple TV app in the works.
"Based heavily upon cloud streaming, Apple's new service is centered around the user's music library. A new search feature will be able to locate any song in the iTunes/Beats catalog, and users will be able to stream music from the catalog as well as add songs to their personal libraries. Users will be able to select specific tracks to store on their iOS devices and/or computers, or keep all songs solely in the cloud. Apple will also deeply integrate Beats Music's Playlists, Activities, and Mixes features into the new service, letting users access a vast array of pre-made, human-curated playlists to fit various activities."
The report adds that Beats Music users will be able to merge their existing account with an iTunes/Apple ID account for seamless transition to the new service. The app's design will shift away from the traditional red and black branding of Beats and feature a user interface that resembles the look and feel of iTunes and the stock Music app on iOS. New social features will also be included for sharing music and playlists with friends.
Apple's new subscription-based service is expected to cost $7.99 per month, cheaper than the $9.99 per month charged by Beats Music and competing services such as Spotify, Rdio and Google Play Music. While the new Beats service will inevitably have some overlap with iTunes Radio, iTunes Match and the iTunes Store, the report claims that Apple will retain all three offerings.
While Beats Music is available for Android, this new service will mark the first time that Apple develops an Android app in house. Apple CEO Tim Cook has previously expressed that he does not have an issue developing an app for Android if the circumstances make sense, but this will be the first time the company actually delivers on that idea. Unlike Beats Music, however, no Windows Phone app will be offered.
Due to some personnel changes and other difficulties in the collaboration between Apple and Beats, which the iPhone maker acquired last year for $3 billion, the timeline for this new streaming service project remains in jeopardy. The report claims that while Apple originally planned to launch the service in March, sources claim that the company is now more likely to launch the service at WWDC in June.