HBO CEO: We Partnered With Apple for HBO NOW Based on HBO GO Popularity
Apple and HBO recently inked a deal that will see Apple becoming the exclusive launch partner for HBO's upcoming "HBO Now" web-based streaming service, and in an interview with CNBC, HBO CEO Richard Plepler explained why the company chose to partner Apple.
According to Plepler, the main reason why HBO opted to team up with Apple was due to the success of its existing cable-based service, HBO GO. 60 percent of HBO GO traffic comes from Apple devices, including the Apple TV, Macs, and the iPhone and the iPad. HBO GO apps have been available on iOS devices since 2011 and the service has been available on the Apple TV since 2013. Plepler also pointed towards the popularity of Apple devices as a deciding factor.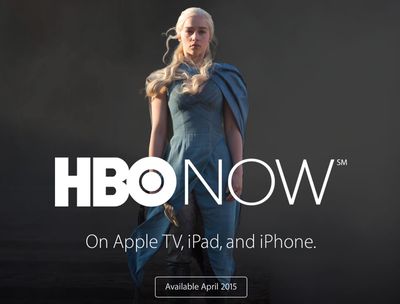 Well, listen. They're obviously an extraordinary company with a wide range of devices, and those devices are proliferating throughout the consumer base. But also, as we look at HBO GO, which is our streaming service tethered to distributors, we saw about 60 percent usage on Apple devices so it made perfect sense for us to work with Apple introducing HBO Now.
HBO Now differs from HBO GO because it does not require a cable subscription for access. Instead, all of HBO's content, including TV shows, movies, documentaries, and more, is available to customers for $14.99 per month. Launching in time for the Game of Thrones premiere in April, HBO NOW will be exclusively available on the Apple TV and Apple devices for the first three months of its life.
Once that three month period has expired, HBO will bring the service to other platforms as well. Plepler expects HBO NOW will be popular with millennials, calling it a "millennial missile," and he doesn't believe the price, which is higher than other services like Netflix, will turn customers away. "We think we have a premium product," he said. "We have extraordinary content ... and it's the price of a movie ticket and a bucket of popcorn."
In addition to partnering with HBO for HBO Now, Apple is also in the middle of negotiations for its own streaming television service, which would provide a select number of cable channels to customers via the web, with no cable subscription necessary. Apple is said to be planning to price the service at $30 to $40 per month for approximately 25 channels, and is partnering with ABC, CBS, Viacom, Fox, Discovery, Disney, and more.
Apple may be planning to launch its new service in June, at this year's Worldwide Developers Conference, possibly alongside a revamped set-top box.