Apple Raises Prices on Several Products in Many Countries Amid Strong U.S. Dollar
While Apple discounted the Apple TV to $69 in the United States this afternoon, it also raised the prices on several products across many countries due to the strength of the U.S. dollar. A wide selection of Apple products, including the iPhone, iPad, iPod touch, MacBook Air, MacBook Pro and Thunderbolt Display, are now more expensive in Canada, Australia, New Zealand, France, Denmark, Sweden, Finland, Portugal and multiple other countries to reflect currency adjustments.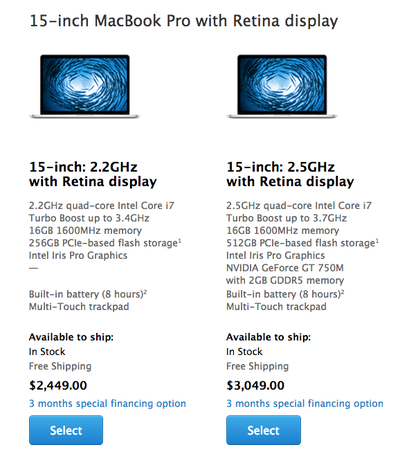 Apple now charges up to $3,049 for the 15-inch Retina MacBook Pro in Canada
A spot check of the Apple Online Store in Canada, for example, reveals that Apple has increased the price of the unlocked iPhone 6 from between $749-$969 to $839-$1,099, Thunderbolt Displays from $999 to $1,199, and 15-inch Retina MacBook Pros from between $2,099-$2,699 to $2,449-$3,049. Apple also hiked the price on the 15-inch MacBook Pro in France, with the base model now starting at €2,249 up from €1,999, and the higher-spec model up to €2,799 from €2,499.
Apple has made similar price adjustments in countries around the world today in order to ensure parity with United States pricing, following a period in which several Apple products were actually priced at a bargain compared to American prices. For instance, prior to the pricing adjustment, the Thunderbolt Display retailed for $999 in Canada, the same price as in the United States, which converts to around $799 in U.S. dollars based on the average conversion rate over the past month.
The updated prices went into effect following the return of the Apple Online Store at the conclusion of Apple's "Spring Forward" media event in San Francisco this afternoon. Should the U.S. dollar weaken, as happened in July 2011, Apple will continue to make the necessary adjustments in order to ensure that its products and services are as consistently priced as possible throughout the world. In some cases, international prices will remain higher than U.S. prices due to taxes, import duties and to create a buffer against currency fluctuations.