Earlier in the month, Apple's London-based iTunes team posted a job listing describing an "Editorial Producer" who would have past experience reporting on pop culture, with specific background in music journalism (via Music Ally). While far from definitive, the job post could be hinting at some editorial-related expansions coming to the revamped Beats/iTunes merger set to launch later in the year.
Set to be split between editorial and producing duties, the full-time job would require the applicant to write, edit, and oversee a group of various freelance writers covering content from music to books and movies. A good portion of the job will be devoted to "special projects and promotions" as well, with a focus on collaboration between other departments to make sure all of the content is successfully produced on time.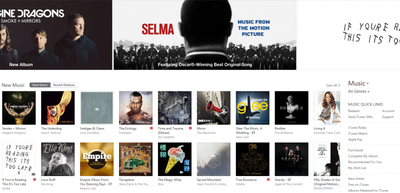 Key Qualifications

-Excellent communication, cross-departmental collaboration, and planning skills with a strict attention to detail.
-Seasoned writer with broad pop culture background.
-Deep contacts in the freelance world with writers who can cover the spectrum of pop culture (music, movies, books, etc.).
-Experience managing and motivating a stable of freelance writers.
-Experience working cross-functionally across content, business, and production teams.
-Project management experience.
Apple has been hinting at big changes coming to iTunes, with the company acquiring media analytic service Semetric, and BBC Radio host DJ Zane Lowe joining the company ahead of the big Beats Music revamp. As Music Ally points out, the new job posting could be pointing to an even bigger expansion for the service in terms of an original journalistic effort.
As it stands, Apple's iTunes, iBooks, and App Store point users in the direction of various top-selling or most popular music, books, movies, and apps with occasionally short "iTunes Editors' Notes" detailing new and favorite releases amongst the services. Despite the fact the new post seems to be pointing to an attempt by the company to add original content and opinions to their download service, as with any job listing, it's far from a confirmation that this will be a direction the company takes in the future.
Though the exact timeline for the launch of the new Apple-backed Beats Music service has remained blurry, news concerning the service has remained steadily consistent since its announcement. Most recently it was reported that the Beats Music revamp would see a fairly deep integration into OS X and iOS, with users possibly even being able to merge their Apple ID with a Beats account for a more seamless experience.