Authorities from two major U.S. cities and London on Tuesday reported (via Reuters) that smartphone theft has dropped drastically since the release of remote-access "kill-switches" that allow users to lock their missing smartphone before any crucial information is stolen. Specifically, the number of stolen iPhones dropped 25 percent in New York, 40 percent in San Francisco, and 50 percent in London.
The study was based on the 12 months following the launch of Activation Lock in September 2013 as part of iOS 7. These numbers have jumped up slightly from a similar report released last summer that saw iPhone thefts in each city fall by 19 percent, 38 percent, and 24 percent, respectively.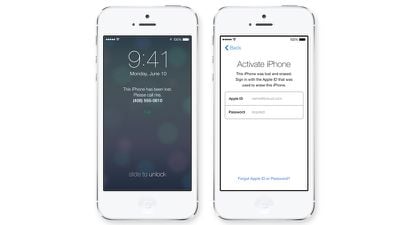 According to Reuters, officials from each of the three cities - London Mayor Boris Johnson, San Francisco District Attorney George Gascon, and New York state Attorney General Eric Schneiderman - were each lobbying for laws that required the implementation of remote kill switches into every smartphone sold.

"We have made real progress in tackling the smartphone theft epidemic that was affecting many major cities just two years ago," said London Mayor Boris Johnson.
From data collected by the National Consumers League, Reuters reports that 1.6 million Americans reported stolen handheld devices in 2012. And in California alone - specifically San Francisco, Oakland, and a few other cities - smartphone theft accounts for more than half of all crimes perpetrated in each city.

"The wireless industry continues to roll out sophisticated new features, but preventing their own customers from being the target of a violent crime is the coolest technology they can bring to market," Gascon said.
Apple's default Activation Lock feature received much praise following its launch in 2013. A few months later Apple and a few other notable smartphone makers, like Samsung and Google, entered into a voluntary agreement to have every smartphone sold on or after July 2015 come pre-installed with a kill-switch, a date that's rapidly approaching. California itself issued a law last August, designating a similar July 2015 date for every smartphone sold in the state to have the anti-theft software pre-installed.