iOS 7's Activation Lock Feature Helping Reduce iPhone Theft in Three Major Cities
New York Attorney General Eric Schneiderman announced today that Apple's Activation Lock feature in iOS 7 has led to a "significant" reduction of iPhone-related theft in New York, London, and San Francisco, reports The New York Times.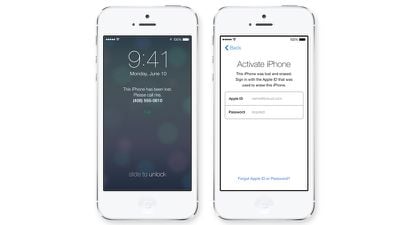 Measuring crime after Apple introduced Activation Lock alongside iOS 7 last Fall, police officers in San Francisco said that iPhone robberies in the city fell 38 percent, with London experiencing a 24 percent drop. Meanwhile, the New York Police Department said that iPhone robberies dropped 19 percent, while grand larcenies including the device dropped 29 percent in the first five months of 2014 compared to the same time period last year.
"The introduction of kill switches has clearly had an effect on the conduct of smartphone thieves," Mr. Schneiderman said in an interview. "If these can be canceled like the equivalent of canceling a credit card, these are going to be the equivalent of stealing a paperweight."
Apple's Activation Lock feature, which prevents stolen phones from being reactivated without an iCloud password, has received praise from various groups since its inclusion in iOS 7. Schneiderman, along with San Francisco attorney George Gascón, spearheaded smartphone anti-theft efforts last year and called Apple's Activation Lock the "world's first attempt to implement a technological solution to the global smartphone theft epidemic."
Apple also entered a voluntary agreement with a number of other smartphone makers in April to include anti-theft technology on all smartphones going on sale after July 2015. Under that agreement, every phone sold would have capabilities allowing users to remotely wipe data and to prevent reactivation without the owner's permission. It is likely that Apple's Activation Lock and Find My iPhone features already satisfy the requirements of the agreement.