California Law Now Requires All Smartphones to Have Built-In Kill Switches By July 2015
A California bill requiring all smartphones sold in the state to have antitheft technology installed was today signed into law by California governor Jerry Brown. Introduced in February, the SB-962 Smartphones bill, which mandates a "kill switch" for cellular devices, was initially approved by the California State Assembly in early August and passed a final vote in the California Senate shortly after.
The law requires smartphones to include software or hardware that will render the device inoperable to an unauthorized user in the event that the phone is misplaced or stolen. The anti-theft technology, which has to be able to withstand a hard reset or operating system downgrade, must prevent reactivation of the smartphone on a wireless network except by the authorized user. The anti-theft tools must be installed during the phone's initial setup process, and it must be reversible so an authorized user can unlock the device if it is returned to their possession.
California's new law is designed to curb smartphone thefts, which have long been a problem plaguing major metropolitan areas like San Francisco and New York City. Co-sponsored by San Francisco district attorney George Gascón and state Senator Mark Leno, the law will go into effect in July of 2015.
"California has just put smartphone thieves on notice," said Senator Leno, D-San Francisco. "Starting next year, all smartphones sold in California, and most likely every other state in the union, will come equipped with theft deterrent technology when they purchase new phones. Our efforts will effectively wipe out the incentive to steal smartphones and curb this crime of convenience, which is fueling street crime and violence within our communities."

"This epidemic has impacted millions across the nation and millions more around the globe, but today we turn the page," said District Attorney George Gascón. "Seldom can a public safety crisis be addressed by a technological solution, but today wireless consumers everywhere can breathe a sigh of relief. Soon, stealing a smartphone won't be worth the trouble, and these violent street crimes will be a thing of the past. The devices we use every day will no longer make us targets for violent criminals."
While the bill will likely affect smartphone manufacturers like Samsung and Microsoft, Apple already ships its iPhones with Activation Lock, a feature first introduced with iOS 7 that likely fulfills the terms of the law. Activation Lock locks the device to a user's iCloud account and is turned on when Find My iPhone is enabled. A stolen iPhone is essentially bricked with Activation Lock, as thieves cannot sign out of Find My iPhone, deactivate iCloud, or wipe the device without the original user's Apple ID.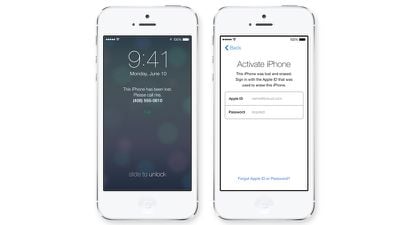 A similar federal law might be passed, if The Smartphone Theft Prevention Act is approved. This act would mandate the inclusion of a "kill switch" in all smartphones sold across the country, which would be used to make a lost or stolen device inoperable and allow consumers to remotely wipe all of their personal data.
Currently, only Minnesota and California have legislation mandating anti-theft technology for smartphones, but back in April, major smartphone manufacturers like Apple, Google, Samsung, Nokia, and all major carriers agreed to add anti-theft tools to all smartphones manufactured after July 2015.