Corning Unveils 'Project Phire' Super Scratch-Resistant Glass
Corning today unveiled a new material that it's been working on, which combines the strength of its existing Gorilla Glass with ultra scratch-resistance like that of sapphire, reports CNET. The material, which goes by the name "Project Phire," was shown off during an investor meeting by Corning Glass president James Clappin.
"We told you last year that sapphire was great for scratch performance but didn't fare well when dropped," Clappin, president of Corning Glass Technologies, told the crowd at the event. "So, we created a product that offers the same superior damage resistance and drop performance of Gorilla Glass 4 with scratch resistance that approaches sapphire."
Corning's existing Gorilla Glass product is used in a range of smartphone and tablet displays, from Samsung's Galaxy line to Apple's own iOS lineup. Apple planned to move away from Corning's Gorilla Glass with the iPhone 6 and 6 Plus, switching instead to sapphire produced by GT Advanced, but was unable to use the material due to production issues that later saw the dissolution of the partnership between the two companies.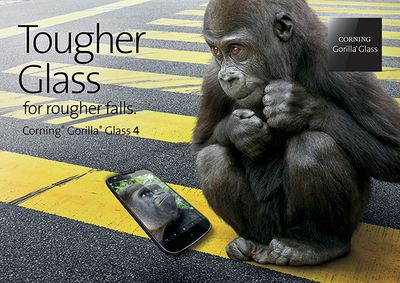 According to Corning, Gorilla Glass is superior to sapphire due to sapphire's brittleness and tendency to shatter when dropped. Corning has on several occasions pitted Gorilla Glass against sapphire to highlight the former's benefits -- lighter weight, greater strength, and lower pricing.
Gorilla Glass 4, Corning's most recent product, is even more resistant to shattering when it falls onto hard, rough surfaces than previous versions of Gorilla Glass, but it is unable to match the scratch resistant properties of sapphire crystal. Sapphire is second only to diamond when it comes to hardness, and Apple already uses the material to protect the iPhone's rear camera and Touch ID fingerprint sensor from scratches.
Apple's desire to produce iPhone displays with greater scratch resistance may make Corning's "Project Phire" material highly appealing to the company for use in next-generation devices, as it could potentially serve as a more affordable, easier to acquire replacement for sapphire.