Corning Pits Gorilla Glass 3 Against Sapphire, Plans Reflection Reduction and Antimicrobial Technology
Following Apple's adoption of sapphire crystal as a strong and durable covering for the rear cameras on the iPhone 5 and fifth-generation iPod touch late last year, rumors of expanded uses for the material have gained some traction. Back in March, we covered a report suggesting that sapphire could see wider adoption as coverings for displays on mobile devices, and just last week a sketchy rumor claimed that Apple is planning to use a sapphire-covered capacitive home button with integrated fingerprint sensor for the iPhone 5S.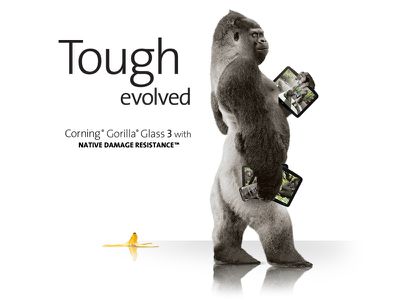 Amid these discussions of the potential of sapphire, Corning has published a feature outlining why its latest Gorilla Glass 3 is in fact already a better option than sapphire for mobile device displays, citing greater strength, lower weight, less energy cost in production, and significantly lower pricing. And with those features has come widespread adoption, with Corning reporting that over 1.5 billion devices have been made with Gorilla Glass.
Jeffrey W. Evenson, [Corning] senior vice president, remarked, "Discussion seems to center around sapphire as an obvious solution for a cover material. What would people say if someone invented a cover that was about half the weight, used 99 percent less energy to make, provided brighter displays, and cost less than a tenth of sapphire? I think they'd say that sapphire was in real trouble. It so happens that we at Corning already invented that cover – and it's called Gorilla Glass." Evenson added that the company's tests so far indicate Gorilla Glass requires about three times more force to break than sapphire after both materials have received similar wear and tear.
Corning also discusses its latest work with Gorilla Glass, noting that the company has already trimmed the materials thickness to the point where it can be curved and shaped without losing strength. Earlier this year,
The New York Times
reported that Apple was working on a
curved glass smart watch
, a product that could potentially take advantage of Corning's latest Gorilla Glass advancements.
Going even further, Corning lays out its future plans for Gorilla Glass, sharing that the company is working hard on new versions that reduce reflections for better visibility in bright sunlight and which incorporate antimicrobial technology to minimize the germs which are prevalent on mobile devices.