First CarPlay-Compatible In-Dash Systems Now Available From Pioneer
Pioneer today became the first company to officially offer support for Apple's CarPlay vehicle integration feature, after announcing the addition of CarPlay to five of its 2014-NEX in-dash multimedia receivers.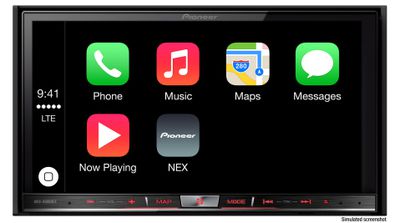 "CarPlay enriches the iPhone experience in the vehicle by providing a safer way to access the iPhone features they want to use most while driving," said Ted Cardenas, vice president of marketing for the Car Electronics Division of Pioneer Electronics (USA) Inc. "With Pioneer's implementation, CarPlay can now be integrated into millions of vehicles already on the road."
As previously announced, CarPlay is available through a firmware update for the $1400 AVIC--8000NEX, the $1200 AVIC--7000NEX, the $900 AVIC--6000NEX, the $750 AVIC--5000NEX and the $700 AVH--4000NEX. CarPlay is also compatible with Pioneer's new $600 smartphone receiver, AppRadio 4.
First introduced in March, CarPlay utilizes the built-in dashboard display of an automobile to offer hands-free operation of the iPhone. With CarPlay, drivers are able to complete tasks like getting directions, making calls, and sending messages through Siri voice control.
Other companies that sell aftermarket in-dash systems also plan to offer support for CarPlay in the near future, including Alpine and Clarion. The first CarPlay enabled cars are expected to come in 2014 as well, with Apple partnering with a wide range of manufacturers including Mercedes-Benz, Volvo, BMW, Ford, Hyundai, GM, Honda, Mazda, Audi, and more.
CarPlay for compatible Pioneer NEX in-dash systems is enabled through a firmware update that is available at no cost. It requires an iPhone 5 or later along with iOS 7.1 or newer.