Following in the footsteps of Dashlane, popular password management app LastPass has also debuted a new "Auto-Password Change" feature that is designed to let users enable a setting for automatic password changes.
Introduced last week to the company's Pre-Build Team, the new Auto-Password Change in LastPass is now available for all beta users in Chrome, Safari, and Firefox at no charge.
According to LastPass, Auto-Password Change has been developed to help its users initiate frequent password changes following major security incidents like Heartbleed, an OpenSSL vulnerability that left hundreds of thousands of machines open to malcious attacks.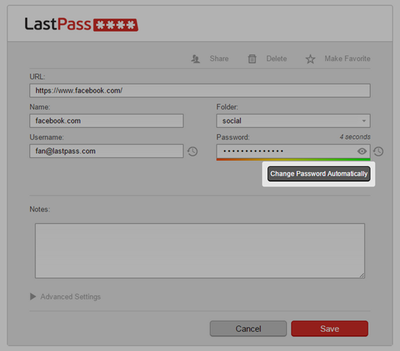 We're excited to announce that the Auto-Password Change feature we released to our Pre-Build Team last week is now available for all users in beta. LastPass can now change passwords for you, automatically. We're releasing this feature for free to all our users, on Chrome, Safari, and Firefox (starting with version 3.1.70).

Maintaining your privacy and security is our top priority. That's why we're doing this differently. We've implemented this feature to make password changes locally on your machine, ensuring we stay true to our mission and never have access to your data. All of your sensitive information is encrypted on your computer before syncing, and your encryption key is never shared with LastPass.
Auto-Password Change supports 75 popular websites, like Facebook, Twitter, Amazon, Pinterest, and Dropbox. In LastPass, users can turn on the feature by clicking "Edit" for a supported site and then clicking on "Change Password Automatically."
After choosing the password update option, LastPass will open a new tab, log into the site and create a new password, updating the information both on the site and within LastPass.
Earlier today, competing password management app Dashlane unveiled a similar "Password Changer" feature, which also allows users to implement easy password changes. Dashlane's new password changing functionality is somewhat more comprehensive than LastPass's password-by-password solution, as it can allow users to change all of their passwords with a single click.
LastPass is available for free on iOS and Mac with ads, but a $12 per year subscription gets rid of the ads, adds priority tech support, and multi-factor authentication. The browser extension can be downloaded from the LastPass website while the iOS app can be downloaded from the App Store. [Direct Link]