The popular subscription-based password management service Dashlane is today introducing a new feature called Password Changer that will let users change all of their passwords with a single click (via The Verge).
The new feature will work with two-factor authentication enabled accounts and be available to work with over seventy websites at launch. Password Changer is fueled by Dashlane's acquisition of PassOmatic, a New York startup that developed the core technology running the new feature.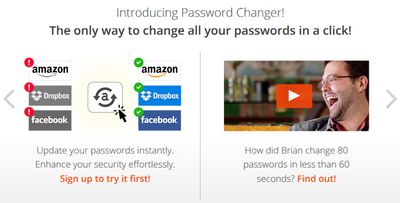 Password Changer will be beta-tested by a small audience (with a planned wide release soon) on the desktop versions of Dashlane for PC and Mac, and the company states that it is working on bringing it to mobile.
The update brings a large, green "change all passwords" button that, when clicked, prompts the user through changing all existing passwords with new unique, randomly generated ones. Accounts with two-factor authentication enabled will require the user to input the answer to a security question or a code.
Future updates promise users the ability to set certain accounts to automatically shuffle through new passwords at pre-set intervals. Dashlane hopes the new measures the company is taking to protect users' private information will give their customers ease of mind in the midst of
recent
hacking scandals
over the past year.
Dashlane is free to use on a single device, but syncing and transferring between multiple devices costs $39.99 per year. The app can be downloaded for free from the Mac App Store [Direct Link] and App Store [Direct Link]. Users wanting to access the Password Changer feature ahead of the wide launch can sign up for the Password Changer beta now.