As the holidays approach, supplies of the Retina iMac appear to be improving somewhat, and as of this week, shipping estimates for both standard and custom Retina iMac configurations have improved to 1 to 2 weeks in the United States (via MacGeneration). Shipping estimates have also improved to 1 to 2 weeks in many other countries, but custom configurations may carry higher shipping times outside of the United States.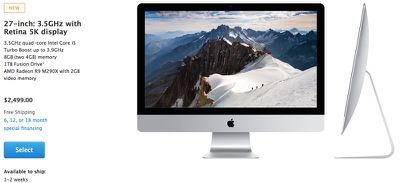 Retina iMac stock has been significantly constrained since the machine launched on October 16, slipping to 3 to 5 days shortly after release then moving to 7 to 10 days before dropping to 3 to 4 weeks in mid-November.
The base Retina iMac, with a 3.5GHz processor, 8GB of RAM, and a 1TB fusion drive is in stock at many retail Apple Stores around the country and can be picked up same day, but when ordered from the online store, it ships in 1 to 2 weeks like all custom configurations. With the newly improved shipping estimates, Retina iMacs ordered today will arrive well ahead of the Christmas holiday.
Equipped with a 5120 x 2880 "5K" Retina screen, Apple's newest iMac has received largely positive reviews for its impressive display, and configured with a 4.0GHz processor and 32GB of RAM, the higher-end Retina iMac models are able to outperform the low-end Mac Pro.