Shipping Estimates for 27-Inch Retina iMac Slip to 2 to 3 Weeks
Supplies of the 27-inch iMac with Retina 5K display have been slowly dwindling ahead of the holidays, and as of this week, shipping estimates for both standard and custom configurations have slipped to two to three weeks.
At launch on October 16, shipping estimates were briefly at a day before slipping to 3 to 5 days, later moving to 7 to 10 days before slipping again on Monday.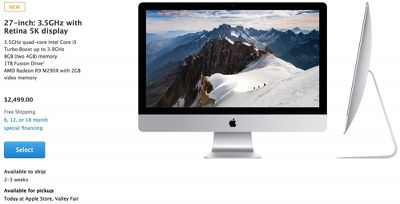 The base Retina iMac, with a 3.5GHz processor, 8GB of RAM, and a 1TB fusion drive, is in stock at many retail Apple Stores around the country and can be picked up same day, but when ordered from the online store, it carries the same two to three week shipping estimate as all custom configurations.
While Retina iMacs ordered from the online Apple Store may not arrive until December, some Apple resellers have available stock that will ship much earlier. Amazon, for example, has the base model in stock available with Amazon Prime shipping and a $50 discount.
MacMall has the base model in stock for immediate shipping, plus the site has several machines with various custom configurations on hand, which it says will ship in five to seven days. MacMall is also offering a discount of $50 on much of its stock.
Other stores like Best Buy and B&H Photo also have the base Retina iMac in stock and available to ship immediately.
Equipped with a 5120 x 2880 "5K" Retina screen, Apple's newest iMac has received largely positive reviews for its impressive display, and configured with a 4.0GHz processor and 32GB of RAM, the higher-end Retina iMac models are able to outperform the low-end Mac Pro.