High-End Retina 5K iMac Benchmarked Faster Than Low-End Mac Pro
Yesterday, Primate Labs highlighted some Geekbench 3 benchmarking results for the new 3.5 GHz 27-inch Retina 5K iMac, unsurprisingly showing the machine performing better than slower-clocked Core i5 chips in non-Retina models but below that of high-end Core i7 chips also available in the machines since their late 2013 introduction.
Primate Labs' John Poole noted that once benchmarks for the high-end Retina 5K iMac with Intel's 4.0 GHz Core i7-4790K chip started appearing, they could show the new iMac outperforming the low-end Mac Pro, and that is indeed the case as revealed today and highlighted in an updated version of Poole's blog post from yesterday.
The 4.0 GHz Retina 5K iMac clocks in with a score of 4438 on the single-core 64-bit benchmarking test, while multi-core testing achieves a score of 16407. Across the two tests, the new high-end Retina iMac scores 11-13 percent higher than the fastest non-Retina model due to the faster processor included on the Retina model.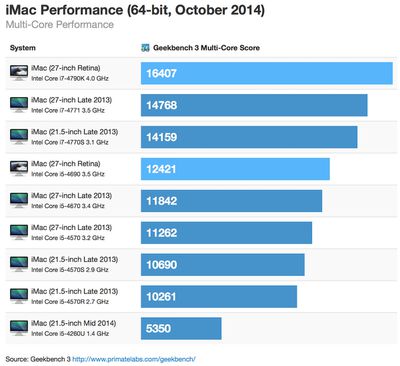 Compared to the low-end Mac Pro, which runs on a quad-core 3.7 GHz Xeon E5-1620 v2, the high-end Retina iMac clocks in over 13 percent higher on multi-core testing, although it is unsurprisingly outclassed by higher-level Mac Pro models carrying processors with more cores.


Both Retina iMac processor options outperform all Mac Pro models on single-core benchmarks, but this is unsurprising as the Xeon processors used in the Mac Pro sacrifice single-core clock speed for many more cores and other benefits that enhance performance for professional-level applications that can take advantage of the multiple cores.