First Hands-On Impressions of 27-Inch Retina iMac: Sharp Image Quality, Great Viewing Angles
After today's media event that saw the introduction of new iPads and new Macs, members of the press were invited to experience all of Apple's new products. Several sites have posted first impressions of Apple's 27-inch iMac with Retina 5K Display, which we've summarized to give users an overview of the company's newest desktop and its ultra high-resolution screen.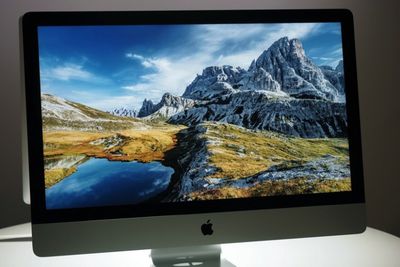 Engadget says that the new 27-inch iMac has a "stunning display" with great viewing angles, and was left impressed with the all-in-one's image quality even at a resolution of 5120 x 2880. Brightness is said to be "level throughout" with no bleeding. The website also praised the extra screen real-estate that the new 27-inch Retina iMac will allow for video editing.
TechCrunch says that the iMac's display shows "full resolution photos with zoomed crops that look better than most originals coming out of the camera" and credits Apple for fitting such a panel into the same tapered design. The screen is noted as being a "huge step up" from the one found on the Retina MacBook Pro. Overall, the new 27-inch iMac is described to be "the future of desktop computing" and is even said to be right up there with Apple's Mac Pro in terms of choices for power users.


Ars Technica praises the new 27-inch iMac's color, contrast, and viewing angles, and thinks that the faster Radeon M290X or M295X GPUs with 2GB and 4GB of RAM respectively are solid upgrades over the Nvidia GeForce GT 700M GPUs found in Apple's non-Retina iMacs. However, the website did take issue with the desktop's price for what it offers internally:
The only thing we can really complain about based on our hands-on time is the price, which isn't bad for what you're getting but is still objectively pretty high. We're glad to see Fusion Drives become standard (something we'd honestly like to see on every iMac and Mac Mini Apple ships), but 8GB of RAM seems a little low for a power-user-focused, $2500 computer. And the big drawback of all-in-one computers still applies—the machine's internals are going to feel their age much faster than the display itself will.
Finally, The Verge calls the desktop's new 5K display "incredible" with a crisp, sharp and accurate picture despite it being a bit reflective. The website notes that it initially worried about performance issues with the iMac now powering an ultra high-resolution screen, but a demonstration proved that performance "doesn't seem to be an issue."
The new
27-inch iMac with Retina 5K display
is shipping today. The base model starts at $2,499 and comes with a 3.5 GHz quad-core Intel i5 processor, AMD Radeon R9 M290X graphics processor, 8GB of RAM, and a 1TB Fusion Drive. Build-to-order configurations can also be outfitted with a 4.0 GHz quad-core Intel Core i7 processor and AMD Radeon R9 M295X graphics processor.