iCloud Development Held Up By 'Deep Organizational Issues' at Apple
Development on new features for iCloud is being held up by "deep organizational issues," according to a new report from The Information, which suggests organizational problems are complicating iCloud products and holding up releases. Much of The Information's report requires a subscription to access, but the article's introduction gives a hint at what's going wrong at Apple.
With iOS 8, Apple introduced some major overhauls to iCloud, including iCloud Drive, which allows users to see all of their files in a dedicated folder on the Mac, similar to Dropbox, and iCloud Photo Library, an ambitious project that lets users upload all of their photos to iCloud.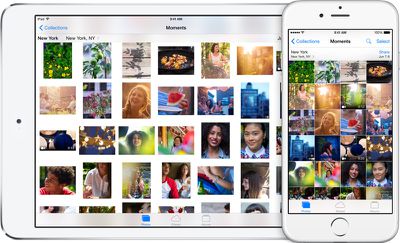 It seems these features may not be as fully fleshed out as Apple would like, especially when it comes to iCloud Photo Library. iCloud Photo Library wasn't released to the public until iOS 8.1, and it remains in a beta testing phase, with speculation suggesting that iCloud's negative public image due to hacked celebrity accounts and photo leaks may have led to its delay.
Apple is great at building hardware and software that runs on it. But it has long struggled to build services reliant on software that runs remotely rather than on devices. While company executives say they are making progress, interviews with nearly a dozen current and former Apple employees paint a different picture.

Deep organizational issues are holding up releases and complicating products.
According to The Information, Apple's "photo vision" has yet to be "fully realized," with internal problems like the lack of a centralized iCloud team leading to iCloud Photo Library's delayed beta release and the lack of the Photos for Mac app, which isn't expected to be completed until 2015.
Photos for Mac, which will integrate with iCloud Photo Library for a complete photo editing and management system, is said to be taking on elements of both iPhoto and Aperture, two apps that Apple has opted to discontinue in favor of the Photos for Mac app. Launching iCloud Photo Library without a companion Mac app leaves a major piece of the iCloud puzzle missing, as users are not able to edit iCloud Photo Library photos natively on their laptops and desktop computers.
While iCloud Photo Library will remain incomplete for some months yet, Apple has been adding features to the iCloud Photos web app as a stopgap measure. Just last week, the company added a much-needed upload feature to its iCloud.com website, allowing users to add photos to iCloud Photo Library outside of their iOS devices for the first time.
iCloud Photo Library is not the first Apple service that's been delayed by organizational issues within the company. iOS in the Car, which later became CarPlay, saw development issues ahead of its official launch as it did not fit neatly into an existing hardware or software category. Internal issues have also been said to be affecting the development of the Maps app and the introduction of new features, like transit directions, due to poor planning, project management issues, and an ongoing loss of developers.