iOS 8.1 Brings iCloud Photo Library to All Users, With Images Accessible on iOS Devices, iCloud.com
iOS 8.1, released to the public earlier today, included Apple Pay support as its most notable feature, but it also brought several other updates to the mobile operating system, including iCloud Photo Library. With iOS 8.1, the iCloud Photo Library beta is now available to all iOS 8 users, as is a new iCloud Photos app that can be found within iCloud.com.
First introduced during WWDC, iCloud Photo Library stores all of the photos and videos that a user takes in iCloud, making them available on the iPhone, iPad, iPod touch, and Macs through iCloud.com. It will also work with the Photos app that Apple is creating for the Mac, which is expected in early 2015.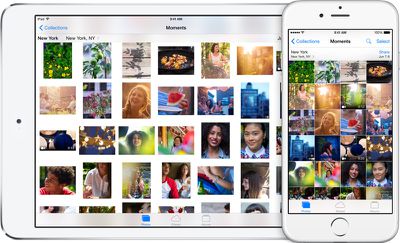 iCloud Photo Library. You're never without your camera. Now you'll never be without your photos. Every photo and video you take now lives in iCloud — giving you the freedom to access your library from any device, anytime you want. So you can view a photo from last week or last year no matter where you are.
iCloud Photo Library is designed to keep all of a user's photos synced on all of their devices at all times. When an image is edited on an iOS device in the Photos app with Apple's built-in editing tools, those changes are immediately uploaded to iCloud and visible on other devices right away.
iCloud Photo Library is also designed to free up valuable storage space on iOS devices. Full high-resolution photos and videos are stored in the cloud, while smaller versions of the images are displayed on devices, taking up far less storage space. iCloud Photo Library uses the iCloud storage space of each user, with 20GB of storage space available for $0.99 per month. Apple's iCloud storage plans go up to 1TB, which is priced at $19.99 per month.
iCloud Photo Library can be enabled on iOS devices in the Settings app by going to iCloud > Photos and toggling on "iCloud Photo Library." The Settings app also lets users choose whether to optimize iPhone storage or download and keep original full-sized photos on their devices.


Once iCloud Photo Library is enabled, images and videos stored on iOS devices will be automatically uploaded to the cloud. They can be viewed as usual within the Photos app for iOS, and on the web, they can be viewed through the new iCloud Photos app on iCloud.com.


In the iCloud Photos app, users can perform several actions that are also available in the iOS version of the Photos app. Images can be favorited, which sends them to a special "Favorites" album, they can be downloaded in full resolution, or deleted, which removes the photos from iCloud Photo Library on all devices. From the main "Moments" view, it's also possible to click on the "Select Photos" option to delete or download multiple images at once.


iCloud Photo Library does not appear to be working flawlessly at the current point in time, which is likely why it's still given "beta" status. In MacRumors own testing, deleting some photos from the iCloud Photos app did not delete the photos from the iPhone 6 Plus they were taken on. A later sync even returned the photos to iCloud.com.
While iCloud Photo Library was available to developers during the iOS 8 beta testing period, Apple opted to pull it from the iOS 8 golden master ahead of iOS 8's public release and demote it to beta status.
The reason behind iCloud Photo Library's removal from the release version of iOS 8 was unclear, but it is possible Apple delayed the release in light of the negative press iCloud received in early September due to the celebrity photo leak.
With Apple having taken significant steps to bolster the security of iCloud, adding two-step verification and sending security emails when changes are made to iCloud or a device is restored, the company appears ready to let the public have full access to the new photo storage feature.