Apple Pushes iCloud Photo Library Back to Beta as SMS Continuity Delayed to October
Though iCloud Photo Library was available during the iOS 8 beta testing period, Apple appears to have demoted it to beta status and removed it from the iOS 8 golden master, the software that will be distributed to the public next week.
Apple has also stripped mentions of iCloud Photo Library from its iCloud preview page, where it used to be prominently featured at the top of the site. Apple's preview page now focuses on iCloud Drive, the new iCloud storage plans, Family Sharing, and iCloud Photo Sharing, with iCloud Photo Library getting no mention at all.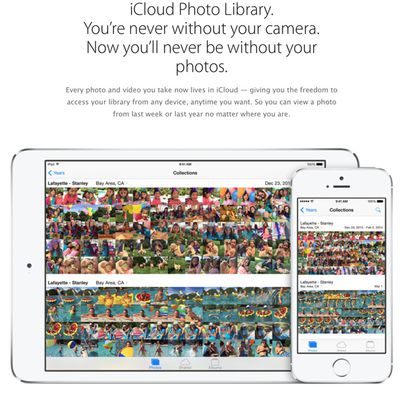 It is unclear why Apple has demoted iCloud Photo Library back to beta status and removed it from the golden master, but it is possible that the company has decided to push it back in light of the negative press iCloud has received in recent weeks due to the celebrity photo leak.
Along with iCloud Photo Library, it appears that Apple has also decided to delay the SMS Relay feature of Continuity until October as well (via iLounge). According to Apple's iOS 8 press release from Tuesday, SMS Continuity will be added to iOS 8 in October, while iCloud Photo Library will be available as a beta during that same month.
Touted as one of the major features of iOS 8/OS X Yosemite, SMS Continuity lets Macs and iOS like iPads receive SMS text messages and phone calls through the iPhone.
Though it will be missing a few features, Apple has plans to release iOS 8 to the public on Wednesday, September 17, two days ahead of the September 19 release date of the iPhone 6 and iPhone 6 Plus.