In an interview last week, Apple CEO Tim Cook noted that Apple would be beefing up iCloud security measures in response to the recent disclosure of compromised celebrity accounts. Among the additional security features said to be rolling out over the following two weeks were new email alerts whenever there is an attempted password change, a device restore from the account, or a login from a new device. Password change and login alerts had previously only been sent when the event took place on an unknown Apple device.
As noted by Letem světem Applem and confirmed by MacRumors, Apple has already begun sending out alert emails when iCloud accounts are accessed via web browsers. The alerts are being sent out even if the specific browser has been used previously to access iCloud, but this is presumably a one-time measure that will not be repeated for future logins with that combination of browser and machine.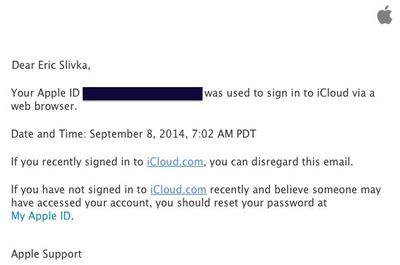 With Apple rumored to be announcing a mobile payments service at tomorrow's event, it is clear the company needs to reassure users that the company is taking security seriously. While the compromised celebrity accounts were targeted attacks rather than a wholesale breach of Apple's iCloud systems, the company's move to enhance security and keep users informed is an important one.