AT&T No Longer Offering Beats Music Subscriptions to Customers
AT&T is no longer offering Beats Music subscriptions to its subscribers as an add-on service, according to an AT&T employee who spoke to MacRumors. The cellular company has ceased giving customers the option to sign up for Beats Music when purchasing a new phone plan and the Beats Music website has been updated to remove its "Subscribe with AT&T" options.
AT&T employees have also been instructed to stop selling Beats Music subscriptions to customers, suggesting the partnership between Beats Music and AT&T has come to an end following Apple's Beats acquisition.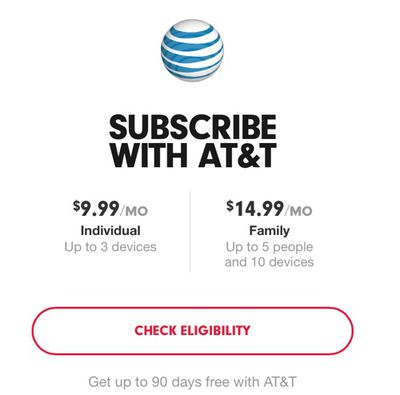 Beats Music and AT&T first struck an
exclusive deal
shortly before the service's initial debut, with AT&T offering multiple Beats Music subscription options, including a family pack that allowed users to share Beats Music with up to five family members. AT&T also offered extended trial periods of up to 90 days and promoted the music service to customers both online and in-store.
It's likely the deal between Beats Music and AT&T has ended due to Apple's $3 billion purchase of both Beats Music and Beats Electronics in May, but it is unclear why AT&T has been able to continue to offer Beats Music subscriptions up until October.
Rumors have suggested that Apple has plans to rebrand Beats Music, and its upcoming retooling may also be the reason behind the dissolution of the AT&T partnership. Along with changing the Beats Music name, Apple is said to be planning to introduce new features and it is also hoping to offer the service at a lower cost, asking music labels to cut their rates.
It is unknown when Apple plans to reveal its revamped music service, but rumors have hinted that its debut could come alongside the 2015 Grammy Awards in February, which means that Apple engineers and designers are likely already hard at work on the rebranding.
Update: Reached for comment, an AT&T spokesman gave the following statement:
There haven't been any changes for AT&T customers who currently have the Beats Music family plan or who are within their free trial period. New subscribers can still get Beats Music through their app store or at beatsmusic.com.