Apple Begins Reminding Two-Factor Authentication Users About App-Specific Passwords
Apple has begun emailing iCloud users who have enabled two-factor authentication on their Apple IDs, reminding them that application specific passwords will be required when trying to access iCloud data on third party apps starting tomorrow.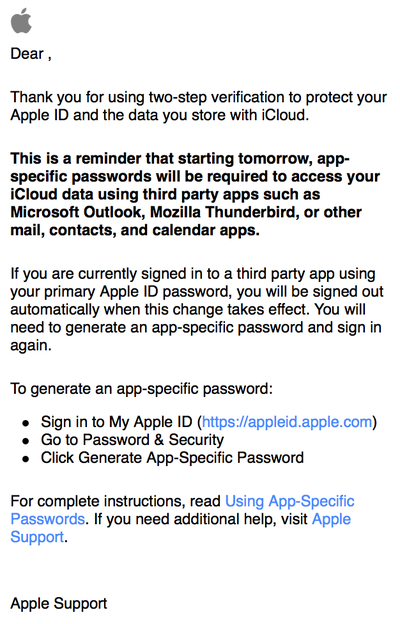 In addition to the email reminders, Apple last week published a new support document educating users on how to use app-specific passwords. While the feature was originally intended to require the feature on October 1, it's unclear why two-factor authentication users are being reminded of it a week later.
App-specific passwords are a new feature Apple introduced in mid-September, following the launch of two-factor authentication for accessing iCloud.com. The changes arrived after a hacking incident that saw the iCloud accounts of several celebrities compromised due to weak passwords.
CEO Tim Cook has promised to improve iCloud security by increasing awareness around Apple's security features like two-factor authentication as well as a sending out email notifications whenever a device is restored, an account is accessed or a password change is attempted.