Apple Will Be 'Lucky' to Ship Apple Watch by Valentine's Day
Apple may not be planning to launch the new Apple Watch until February 2015 or later, according to a new report from The Information (via Business Insider). When the Apple Watch was introduced earlier this month, Apple gave a non-specific "early 2015" timeline for its release, with no additional information on when we might expect to see the device.
One person briefed by the Apple department involved in shipping the watch quipped that Apple would be "lucky to ship it by Valentine's Day." Apple has said only that the watch would ship in early 2015, and a spokeswoman did not comment for this article.
According to the report, Apple initially planned to have the watch ready to ship in time for the 2014 holiday season, but had problems finishing software development in time. Hints of a delay on the software side first surfaced shortly after the keynote, as members of the press who were invited to spend some hands-on time with the devices noted that none of the display units were running the actual operating system, Watch OS.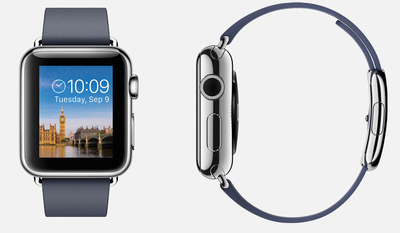 Instead, the devices displayed only screenshots of various functions and while some Apple employees gave demos of functional units, reporters were not able to explore the software themselves. Apple has also opted not to divulge the battery life of the device, possibly because it is continuing to tweak the Watch OS software for the best results. Concrete information on battery life likely can't be determined until software development is finished.
Apple Watch includes several new cutting edge technologies that have not been incorporated into previous devices, including the pressure-sensitive Force Touch that can determine the difference between a tap and a press, and the Taptic Engine, Apple's unique haptic feedback vibration engine designed to deliver alerts in a subtle way.
When it goes on sale in early 2015, the Apple Watch will be available in an array of materials and with several different band options, with pricing starting at $349.