Apple Watch May Headline Fashion Boutique Colette's 'One Day Only Experience' Tomorrow [Updated]
Apple and Parisian fashion boutique Colette are preparing a "one day only experience" on September 30, reports French blog Macplus [Google Translate]. Showcased on Colette's website, the event will be held from 11:00 AM to 7:00 PM local time at the retailer's gallery on rue Saint-Honoré in Paris.
Information on what will be shown during the one-day event has not been revealed, but hints from the invitation and Colette's own fashion focus suggest the Apple Watch will be the highlight. The pattern of dots on the promotional image appears very similar to the zoomed-out home screen of the Apple Watch, with each dot representing an app icon.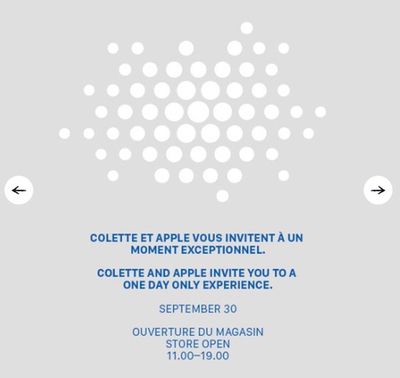 Apple unveiled the Apple Watch earlier this month alongside the iPhone 6 and 6 Plus. The smartwatch will be available in a variety of configurations, including a high-fashion Edition collection that features an 18-karat gold casing and sapphire crystal display and a Sport collection for fitness enthusiasts. Apple is targeting an early 2015 launch, but the company will reportedly be hard-pressed to make the device available to the public in time for February's Valentine's Day holiday.
Update 8:55 AM: As noted by forum member Rogifan, Apple industrial design team member Mikael Silvanto has posted several photos on his Instagram account yesterday documenting his trip to Paris for Paris Fashion Week. In one photo, a member of the team is shown wearing Apple Watch at a meal, while another photo taken onboard the plane en route to Paris may show Jony Ive and Marc Newson in the background.
Update: Silvanto has made his Instagram photos private.