High-End 18-Karat Gold Apple Watch Could Cost Up to $1,200
The Edition version of Apple's 18-karat gold Apple Watch could cost around $1,200, reports TechCrunch. The site consulted with "jewelers familiar with the material" Apple uses for the Apple Watch Edition, basing an estimate on the size and weight of the device.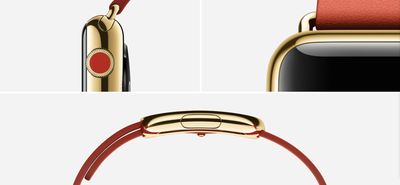 18-karat yellow gold Apple Watch Edition with Red Modern Buckle band



Chad Rickicki, a watch expert in Pittsburgh, Pennsylvania said that a case the size and shape of the Apple Watch in 18 carat gold would cost about $600 to make. The rest -- the electronics and markup could double that price.

That doesn't mean that all of the Apple Watches will rest in the rarified air of haute horlogerie. The lower end sport versions will start at $349 and presumably the standard versions, simply called Apple Watch, will receive a premium over that. The Edition watches, however, are expensive because gold is expensive, even at 18K and intermixed with Apple's alloys.
Any predictions on possible cost for the gold Apple Watch at this point are fairly rough estimates, as the exact dimensions of the device remain unknown. It is also unclear whether the Apple Watch is gold plated or solid gold alloy.
According to Apple's site, the 18-karat gold used in the Apple Watch Edition has been crafted by the company's metallurgists to be "twice as hard as standard gold." It also comes with a polished sapphire crystal display and rumors have suggested the gold watches will come in special boxes that can also be used for charging.
Early iWatch rumors from KGI Securities Analyst Ming-Chi Kuo suggested the wearable device would come in an array of colors and styles, with some of them costing several thousand dollars. Depending on the pricing of the Edition watches, Kuo's prediction may not be far off.
While Apple is aiming for the luxury market with the Apple Watch Edition line, the company is also planning to offer the Apple Watch in several other lower-priced configurations. The Apple Watch Sport, for example, does away with sapphire in favor of an Ion-X glass display and a lightweight aluminum casing, making it much more affordable. According to Apple, its line of watches will start at $349 and will begin shipping in early 2015.