China Telecom Launches Preorder Page With Fictional iPhone 6 Claims, Rendered Images
Following in the footsteps of China Mobile, Chinese carrier China Telecom has also begun taking preorders for the iPhone 6 ahead of the device's official launch in order to drum up interest with customers. As noted by TechCrunch, the site has a preorder page that sports rendered images of the iPhone 6, along with several suspect specifics about the device that have undoubtedly come from unconfirmed rumors.
The preorder page depicts the 4.7-inch iPhone, which China Telecom suggests has a pixel density of 416, which would be in line with a 1704 x 960 resolution. While that resolution has been rumored for the iPhone 6, recent images of a supposedly functional device have leaned towards a 1334 x 750 resolution with a 326 ppi first proposed by Apple pundit John Gruber.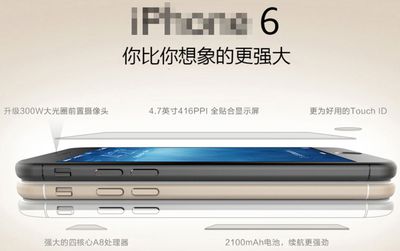 An A8 processor and a Touch ID fingerprint sensor are highlighted in the image, which are two likely inclusions for the iPhone 6, but the image also points towards a 2,100 mAh battery. While that capacity has been rumored, there have also been several photos of an 1,810 mAh battery bearing an Apple logo and regulatory text. Finally, China Telecom's image suggest a 3-megapixel front-facing camera, another unsubstantiated rumor.
According to TechCrunch, the graphic originally included a non-blurred version of the word "iPhone", but it was later updated by China Telecom, likely at Apple's request.
Earlier this week, China Mobile began accepting preorders for the iPhone 6 and garnered more than 33,000 orders in just hours, pointing towards strong interest in the iPhone 6. Analyst predictions have suggested the iPhone 6 launch could bring a in more upgraders and Android switchers than normal, due to its larger display and redesigned body.
Apple is expected to introduce the iPhone 6 at a September 9 media event, which is now just under four days away. Rumors and part leaks have suggested the device will have an A8 processor, NFC support, and an upgraded camera. It's expected in two sizes -- 4.7 and 5.5 inches -- but it is unknown if both versions of the phone will ship to consumers at the same time due to production difficulties with the larger model.