China Telecom iPhone 6 Ad Suggests Simplified Model Lineup for Different Carrier Technologies
According to a Sina News report (via ZDNet), China Telecom this week briefly announced plans to sell an unlocked version of the iPhone 6 in order to compete with rival carriers. The Sina report sources a Weibo post from China Telecom's Shanghai office that was posted earlier this week and later deleted.
The move suggests Apple is planning to sell a version of the iPhone 6 that will support all wireless networks in the country, including dual 4G (TDD-LTE and FDD-LTE), WCDMA, CDMA2000, GSM, and CDMA1X. This opens up LTE to China Telecom subscribers and makes the country's number three carrier more competitive with its bigger rivals China Unicom and China Mobile.
Apple currently sells three different models each of the iPhone 5s and 5c in China in order to accommodate the different technologies used by the country's carriers. But with updated modem and antenna technology for the iPhone 6, Apple may be able to streamline its model lineup to more efficiently support the various carrier technologies.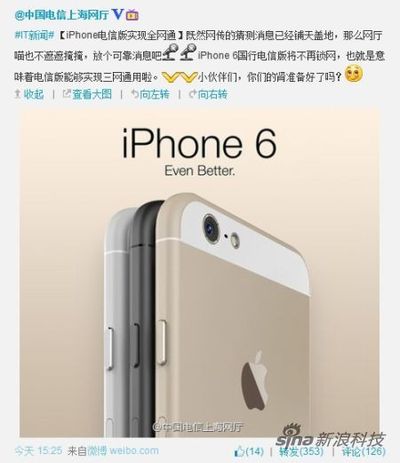 As part of its advertisement, China Telecom used an iPhone 6 rendering from a Behance gallery posted early last month by Tomas Moyano and Nicolas Aichino. The renderings have been fairly popular around the web, including in our own stories, but differ from most recent leaks in some aspects such as omitting a protruding camera ring and showing rear shells featuring different colors at top and bottom.
Apple is expected to unveil the iPhone 6 at a press event to be held in early September. The handset may include larger 4.7-inch and 5.5-inch display options, a faster A8 processor, an improved iSight camera and a new Touch ID sensor. Sales of the 4.7-inch version are expected to begin at the end of September, with the 5.5-inch model launching either alongside or up to several months later than the smaller model.