iPhone 6 May Lose Sapphire Display Cover, Gain 128 GB Storage Option
In a research note released today, KGI Securities analyst Ming-Chi Kuo claims both the 4.7-inch and 5.5-inch iPhone 6 will be announced next week at Apple's iPhone press event. Kuo believes Apple will stagger the launch with the 4.7-inch model arriving in mid-September and the 5.5-inch model following 5 to 10 weeks later.
Kuo believes both the 4.7-inch and 5.5-inch models will face supply constraints at launch as demand likely will outpace Apple's ability to manufacture the device. Labor shortages at Foxconn will impact the production of the 4.7-inch iPhone 6, while the 5.5-inch faces an additional hurdle due to production issues with assembly and other components.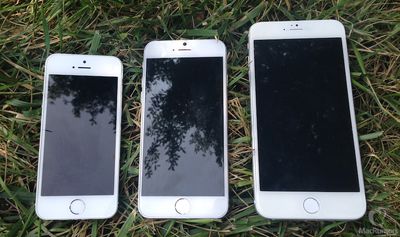 In line with earlier reports, Kuo says Apple will boost the internal storage of the iPhone to 128 GB. Both the 4.7-inch and 5.5-inch models will ship with this higher capacity option. It is unclear whether Apple will add the 128 GB as a fourth storage option or drop the lower 16 GB model, selling the iPhone 6 only in 32, 64, and 128 GB capacities, although a 16 GB module has been seen on a leaked logic board and the earlier leaked schematic had referred to 16, 64, and 128 GB options..
Though he previously has stated select premium iPhone 6 handsets will ship with a sapphire glass option, Kuo, in this latest report, addresses the possibility of a sapphire cover, which he claims Apple is abandoning due to drop test issues. Kuo also claims the iPhone will have a programmable, side-mounted power button and an internal barometer sensor for navigation and health-related purposes.
Key spec forecasts – No sapphire cover lens, 128GB, built-in barometer pressure sensor & programmable power key

(1) Due to drop test issues, neither 4.7-inch nor 5.5-inch iPhone 6 will have a sapphire cover lens, we believe; (2) as Apple has strong bargaining power on NAND Flash price, and in a bid to meet the large capacity demand of consumers as well as to differentiate themselves from competing models, both 4.7-inch and 5.5-inch iPhone 6 will come with 128GB; (3) a built-in barometer can provide more indoor navigation applications and health-management applications relating to spirometry; and (4) we predict (discussed in an earlier report) that the power key will be moved from the upper position to the side. We now further predict that the power key could be programmable to be integrated with specific applications, giving more input options in addition to being a power switch.
Apple's iPhone 6 event will be held on Tuesday, September 9 at the Flint Center in Cupertino, California. Besides the possibility of a 128GB model, Apple may also add a new A8 processor, an improved camera with image stabilization and an enhanced Touch ID to its next generation iPhone.