After pulling its HERE maps app due to incompatibilities with iOS 7, Nokia is headed back to Apple's mobile platform with a new offline maps application that'll compete with Google Maps and Apple Maps. The app is in the final stages of development and expected to land before the end of the year, reports the Wall Street Journal.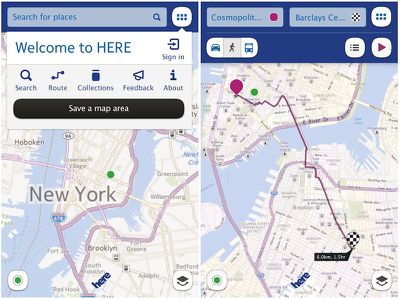 Nokia's previous version of HERE Maps for iOS
Nokia is introducing its new maps app to customers who are tired of their existing navigation apps and are looking for an alternative solution.
"I'm convinced people are looking for alternatives," Mr. Fernback said. "Google Maps is a good solution for many, their maps work very well, but it has looked the same and done the same for a long time."
Nokia will set its maps apart from its competitors by offering offline access to both navigation and searching. The new Nokia maps app will be offered for free in the iOS App Store once it passes through Apple's App Store review process.
Apple's Maps has been heavily criticized since it launched alongside iOS 6. The company slowly has been improving its mapping experience, adding features such as Flyover and expanding the points of interest available to users, but significant changes are still in the works. An overhaul of the underlying maps infrastructure and the addition of major features such as public transit directions may have been bumped from iOS 8 and pushed off to a future iOS version due to internal strife at the company.