Nokia Pulls 'HERE' Maps App for iOS, Citing iOS 7 Changes That 'Harm the User Experience'
In the wake of a rocky launch of Apple's mapping services as part of iOS 6 last year, Nokia debuted its own iOS app bringing its "HERE" maps to the platform in the form of a free app. Based on the NAVTEQ mapping data used in many vehicle navigation devices, the HERE iOS app included a number of features including offline mode and transit and walking directions.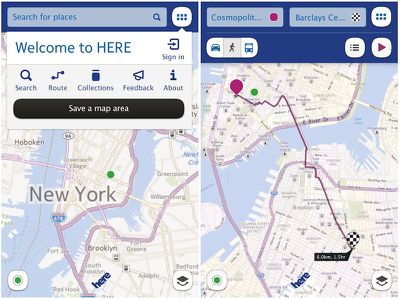 Earlier this month, HERE quietly disappeared from the App Store, and The Indian Express reports (via Engadget) that Nokia has now issued a statement blaming unspecified changes in iOS 7 for driving the company's decision to remove the app.
When approached for a comment, a Nokia spokesperson sent The Indian Express an official statement. It read, "We have made the decision to remove our HERE Maps app from the Apple App Store because recent changes to iOS 7 harm the user experience. iPhone users can continue to use the mobile web version of HERE Maps under m.here.com., offering them core location needs, such as search, routing, orientation, transit information and more, all completely free of charge."
As the report notes, the HERE iOS app was not particularly well received by users, having suffered from a number of bugs and received no updates during its year on the App Store. Consequently, it seems likely that poor adoption and an unwillingness by Nokia to invest significant effort in fixing the app's issues played significant roles in HERE's demise on iOS as well.
Without more information from Nokia, however, the exact set of circumstances leading to the removal of HERE remains unclear, and it is unknown exactly what changes in iOS 7 the company is referring to in its statement. Some users have criticized the look and feel of the redesigned operating system, with some usability issues also having been raised.
The dramatic design change in iOS 7 has also led many third-party developers to invest significant resources in redesigning their own apps to match the new aesthetic, and perhaps Nokia simply felt that it did not want to commit to make the necessary changes and improvements to its iOS app in order to attract and retain users.