iPhone 6 Built From Parts Apparently Shown Booting to 'Connect to iTunes' Screen
Following its leak of photos showing the iPhone 6 logic board that have revealed the device's NFC chip and 16 GB of storage, luxury modified iPhone vendor Feld & Volk [Instagram page] has now shared some photos and a video showing the device in operation and booting to a black screen requesting the user to connect the device to iTunes.
Feld & Volk says it has been able to piece together this iPhone from various components it has obtained as part of its effort to build its own luxury version of the iPhone 6 for its customers, and remarkably enough, the device is at least capable of turning on.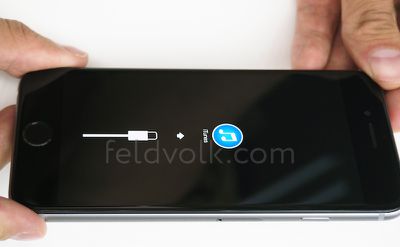 While it seems surprising that a functional iPhone 6 could be built from individual components, Feld & Volk has demonstrated that it has been able to get its hands on rare parts, and thus it is possible they may have acquired everything necessary to build the device.