NFC Chip From NXP Confirmed for iPhone 6
With rumors claiming the iPhone 6 will include a near field communications (NFC) chip from NXP to potentially support a mobile payments initiative from Apple flying in recent days, the existence of the chip now appears to have been confirmed. Luxury modified iPhone vendor Feld & Volk [Instagram page], which has shared a number of claimed parts from the iPhone 6 in recent weeks, has now gotten its hands on a complete logic board for the device.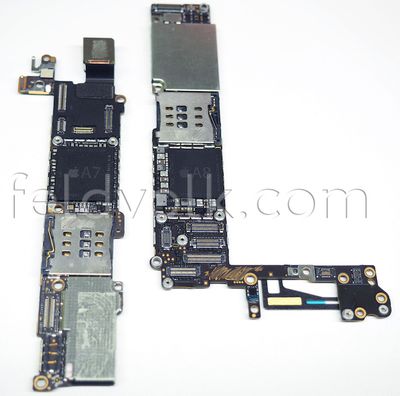 iPhone 5s logic board (left) and 4.7-inch iPhone 6 logic board (right)
The firm has
shared a few photos
of the logic board with Sonny Dickson, revealing the board's NFC chip from NXP.

Apple has confirmed that it will be holding a media event at the Flint Center for the Performing Arts in Cupertino on September 9, and the company is naturally expected to introduce the iPhone 6 at the event with a launch coming shortly after. Apple is also said to be showing off its wearable device, commonly referred to as the iWatch, although it is unclear when that device will be available for sale.