New Photos Claim to Show Various Internal Parts from iPad Air 2
New photos shared by French Apple news website iPhonote (Google Translate) claim to show a number of components for the upcoming iPad Air 2, including the device's GPS antenna, microphone, and Wi-Fi module. While previous leaks have shown off the device's front panel and rear shell, these images could be the first look at the various internal components in the iPad Air 2.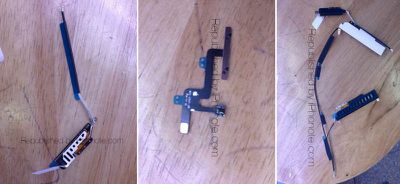 Purported iPad Air 2 GPS antenna, microphone, and WiFi module


The website also posted a variety of comparison images between each component for the iPad Air 2 and its corresponding part on the current iPad Air. While no major changes can be immediately spotted from any of the comparisons, it does appear that the next-generation iPad Air's GPS antenna is longer than its predecessor. Also shown are pictures of the iPhone 6's front panel, which appear similar to prior leaks of the component.

Apple is expected to announce the iPad Air 2 alongside the next-generation Retina iPad mini at an event this fall. A report from Re/code claimed that Apple would be unveiling the iWatch at an October event, which may also include the introduction of both new iPads. The iPad Air 2 may feature a thinner design thanks to an integrated display, anti-reflective coating, a Touch ID fingerprint sensor, a faster A8 processor, and 2 GB of RAM.