Apple Suppliers Gearing Up to Produce New iPads, Larger Model to Feature Anti-Reflective Coating
Apple's suppliers are gearing up to begin producing the next-generation iPad Air and Retina iPad mini, reports Bloomberg. Production for the 9.7-inch iPad Air 2 is underway and according to the site's sources, the tablet will debut towards the end of the third quarter or early in the fourth quarter. Production of the 7.9-inch Retina iPad mini 2 is also said to be beginning soon.
August production dates for both tablets are in line with rumors that have suggested the new iPads will be unveiled at a fall event (possibly October) that follows Apple's September 9 iPhone event.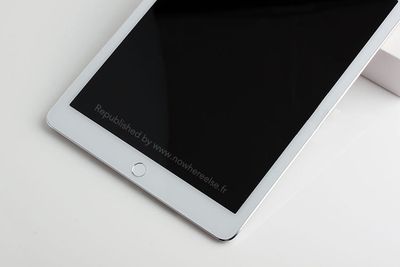 iPad Air 2 Mockup
Apple's iPad Air 2 may see some manufacturing issues that restrict available supply, however, due to a new anti-reflection coating that's being added to the tablet. The coating is said to make the iPad's screen easier to read.
Output of the larger iPad may be restricted by manufacturing complications related to the use of a new anti-reflection coating, which Apple plans to add to the device to make the display easier to read, said one of the people.
According to recent rumors, the iPad Air 2 and the second-generation Retina iPad mini will both feature form factors that are largely the same as Apple's existing iPad Air and Retina mini. The iPad Air may see some minor design tweaks including a new speaker grille with a single row of larger holes and a slightly recessed set of volume buttons.
Both tablets are expected to get upgraded A8 processors that are both faster and more efficient and Touch ID fingerprint sensors. The iPad Air may also gain an improved 8-megapixel camera.