Alleged iPad Air 2 Front Panel with Integrated Display Shown in New Photos
Following the leak of an alleged iPhone 6 front panel earlier this week, the iPad is now getting its turn with a pair of photos showing what is said to be a front panel for the next-generation iPad Air, shared by Dutch site One More Thing [Google Translate]. Notably, the part appears to include an integrated display in contrast to the separate panel and display parts used on the current model. A move to an integrated front panel/display would reduce overall thickness, potentially allowing Apple to further slim down the iPad Air or make room for other components such as a slightly larger battery.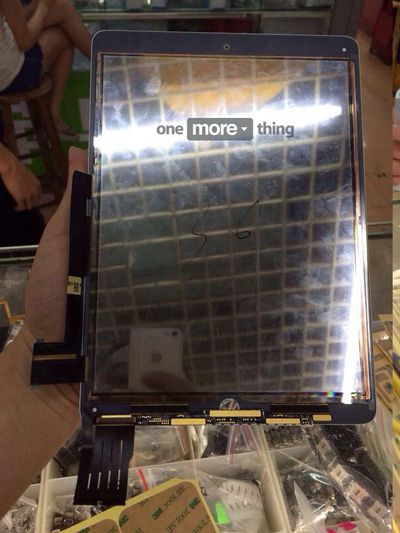 MacRumors spoke with iFixit co-founder Kyle Wiens, who noted that the assembly could indeed be legitimate and use a manufacturing process similar to that seen on the Retina MacBook Pro. The move to an integrated panel/display would increase repair costs, but ease of repair has not been a particularly major focus for Apple and the company already uses an integrated display on the iPhone.


The next-generation iPad Air is expected to launch later this year, with notable analyst Ming-Chi Kuo predicting that upgraded iPad Air and Retina iPad mini models will debut in the third quarter of this year and adopt the Touch ID system introduced on the iPhone 5s last year.
(Thanks, Rogier!)