Front Panel from 4.7-Inch iPhone 6 Once Again Shown in Photos
Taiwanese Apple news website AppleClub (Google Translate, via 9to5Mac) shares new photos of the supposed front panel from the 4.7-inch iPhone 6, including the device's display and its insides.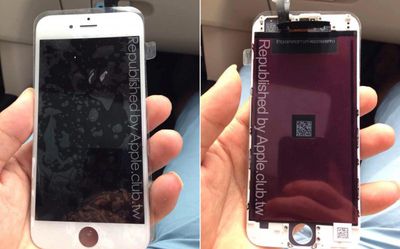 The images are consistent with prior leaks of the iPhone 6's front panel, showing a larger screen, a thinner bezel, rounded edges, and a cutout for the Touch ID home button. The panel depicted also features the front-facing camera and the ambient light sensor located on the left and at the top respectively, which is similar to the design of the iPhone 4.
It is not known whether the display shown is made of sapphire, which was once rumored to come with the 4.7-inch iPhone 6. However, recent rumors have suggested that the smaller iPhone 6 will not come with a sapphire display, as rigorous scratch tests may instead hint at a more durable glass screen. Sapphire panels may come to the larger 5.5-inch iPhone 6, which is reported to feature a number of other differentiating factors including a faster processor and a camera with optical image stabilization.


Apple's next-generation iPhone will be revealed at an event on September 9, with sales likely commencing roughly a week and a half afterward. It is likely that the 4.7-inch iPhone 6 will launch first, as the 5.5-inch model is said to be experiencing production issues that may lead to a delayed release.