Second-Generation iPad Air May Get Memory Boost to 2 GB
Apple's second-generation iPad Air may get a memory upgrade, bumping it up to 2 GB of RAM instead of the 1 GB in the current-generation device, reports Taiwan's TechNews [Google Translate] (via iPhone in Canada). According to the site, the increased RAM will be limited to the iPad Air, as the second-generation Retina iPad mini is expected to continue to offer 1 GB of RAM.
Apple began offering 1 GB of RAM with the third generation iPad, keeping the same amount of memory in the fourth-generation device and the fifth-generation iPad Air. With such a long span of time between memory upgrades, customers have been wondering when Apple might opt to bump up the RAM in its tablet lineup.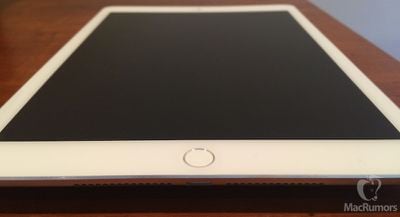 iPad Air 2 mockup with Touch ID home button
Previous generations of the iPad have likely not seen a memory increase in order to keep costs low, save space, and preserve battery, but with some of the upcoming iOS 8 features, more RAM might be a necessity for smooth performance.
Apple is rumored to be working on split-screen multitasking for the iPad Air, a feature that will certainly be more memory intensive than running a single app at a time. The feature is said to allow two apps to run side-by-side on the iPad in multiple sizes, including 1/4, 1/2, or 3/4. While split-screen multitasking is likely to be available on existing devices, it may run better on Apple's upcoming iPad Air, which is also expected to gain a new A8 processor.
Thus far, rumors have suggested that split-screen multitasking will be limited to the iPad Air, though support may come to the iPhone and the Retina iPad mini at a later date. Split-screen multitasking is unlikely to be ready for iOS 8's fall debut, but it may come as part of an 8.1 update.
Previous concept for split-screen multitasking (not based on specific rumors)
TechNews
also shares some information on Apple's upcoming iWatch, suggesting the device will sport 512 MB of internal memory along with 8 GB of storage, which cannot be confirmed with previous rumors as little is known about the device.
TechNews does not have much of a track record when it comes to Apple rumors, and what it has shared has seen mixed outcomes. The site accurately predicted a sapphire cover for the Touch ID home button ahead of the launch of the iPhone 5s, but it also incorrectly suggested the home button would be capacitive.
Apple is said to be planning an October event to unveil the iWatch, even though the device may not ship until late 2014 or early 2015. That October event may also include the debut of the second-generation iPad Air and the second-generation Retina iPad mini.