Home Button and Sensor Flex Cables From 4.7-Inch and 5.5-Inch iPhone 6 Shown in New Photos
Nowhereelse.fr [Google Translate] has published several high-resolution images purportedly showing flex cables from both the 4.7-inch and the 5.5-inch iPhone 6. These latest images add to the growing number of flex cables and other internal components for the iPhone 6 that have surfaced in the past few months.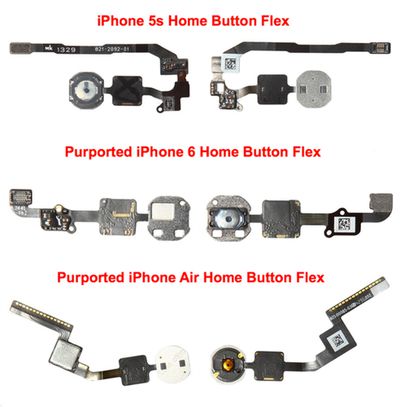 These images include a possible look at the home button cables from both iPhone 6 models. The photos show two different designs for the part, each with a square section for the Touch ID sensor but distinct from the iPhone 5s part. While Apple's iPads are also rumored to be gaining Touch ID functionality this year, the parts shown in the photos are compact enough that they are much more likely to be for the iPhone.


Another set of photos shows a flex cable with the ambient light/proximity sensors and a microphone. The corresponding part from the iPhone 5s includes the device's FaceTime camera, but the camera is not included on the purported iPhone 6 cable.
As the rumored September launch of the iPhone 6 approaches, we expect to see additional part leaks, especially for the 5.5-inch model which may enter mass production in the coming month. Supply chain reports claim the 4.7-inch model entered mass production in July.
Rumors suggest Apple may stagger the launch of the iPhone 6, introducing the 4.7-inch model in September and following that launch with the 5.5-inch version later in the year.