Rumored iPhone 6 Parts Show Volume and Power Buttons on Separate Cables
While we've seen plenty of mockups and more recently a few claimed legitimate exterior parts such as rear shells and front panels from the iPhone 6, little in the way of internal parts as surfaced so far. But three new photos surfacing today (via Apple.club.tw) show what are claimed to be a pair of flex cable parts from the iPhone 6.
The photos are of fairly poor quality and it is not specified whether the parts are from the 4.7-inch or 5.5-inch model, but the parts do closely resemble legitimate parts from other devices and an Apple logo and Apple-style part number are present on one of them.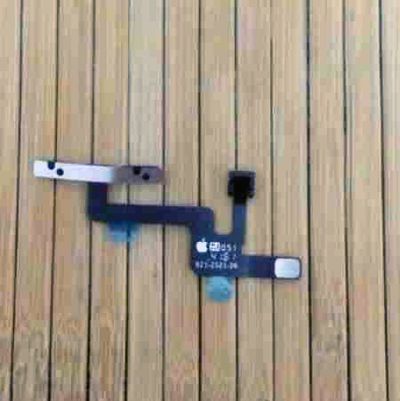 iPhone 6 volume/mute flex cable
Unlike on the iPhone 5s, where a
single part
houses both the left side volume buttons/mute switch and the top power button, these iPhone 6 parts show the two areas on separate flex cables. This change would seem to be consistent with the larger size of the iPhone 6 and the reported shift in the location of the power button from the top edge to the right edge.

iPhone 6 volume/mute flex cable
One cable, which is shown from the front and back in two of the photos, appears to simply contain the volume buttons and mute switch. There appears to be greater separation between the volume buttons and mute switch than on corresponding parts from previous iPhones, but it is unclear just how much extra distance there might be in the finished product given the flexibility of these cables. Mockups and drawings have shown elongated volume buttons and perhaps a little extra distance separating the mute switch, but the difference does not appear as significant as suggested by the flex cable part.

Separate iPhone 6 flex cable with what appears to be power button
The second flex cable shown in the photos is less clear in terms of function, but appears to include the power button, although Kyle Wiens of
iFixit
points out that it looks somewhat larger than on previous models.
Apple is expected to launch the iPhone 6 around September of this year, with a larger display being the key feature for the device. Other likely improvements include a new A8 chip, camera enhancements, and perhaps a more durable Touch ID fingerprint sensor.