Bare iPhone 6 Logic Board Surfaces, Claimed to Support NFC and 802.11ac Wi-Fi
Claimed internal components for the iPhone 6 are beginning to surface with increasing frequency as it is now likely less than two months until launch. In line with those developments, a new set of photos [Google Translate] shared by Nowhereelse.fr reveal what appears to be the bare logic board of the iPhone 6, likely the 4.7-inch model.
According to Nowehereelse.fr, the source who shared the photos of the parts claims the iPhone 6 will include support for both near field communication (NFC) and faster 802.11ac Wi-Fi, although neither of those claims can be confirmed from the photos themselves. NFC for the iPhone has been rumored for years, but has yet to come to fruition and rumors are once again split as to whether the iPhone 6 will include the technology. 802.11ac seems to be a natural upgrade for the iPhone now that appropriate chips are available.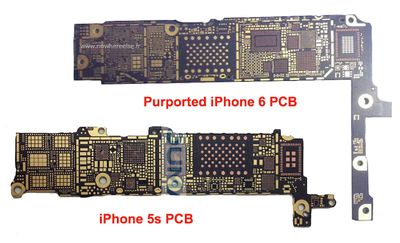 The logic board bears a number of similarities to corresponding parts from other iPhones, although this part includes a much longer piece extending across what would be the top of the device. Given the larger body size of the iPhone 6, however, it is unsurprising that internal components could see some changes to their design and layout.

Overlay of logic board and rear shell
Screw holes in the board also appear to line up with ones seen in
recent leaks
of claimed
rear shell parts
for the iPhone 6, indicating they are indeed likely from the same device.

Annotation of likely iPhone 6 logic board component locations
(Click for larger)
With the photos showing only the bare printed board and no chips or other components installed, it is difficult to tell much new information from the part, although the locations of some components can be identified based on their similarities to other iPhone logic boards.
The iPhone 6 is expected to see a similar launch timeframe as in recent years, with a September media event introduction followed by a launch shortly after. While the 4.7-inch model is expected to follow this timeline, an even larger 5.5-inch model is said to still be in flux and may not debut until several months later.