OS X Yosemite's Share of Mac Traffic Doubles Following Public Beta Launch
Following the launch of yesterday's public beta for OS X Yosemite, the operating system's share of global Mac traffic has nearly doubled according to installation numbers from GoSquared.
The site has been tracking the usage of OS X Yosemite in real time since its initial developer launch on June 2. Yesterday, ahead of the beta launch, Yosemite accounted for 0.26 percent of all Mac traffic globally and as of today, that number has crept up to 0.49 percent.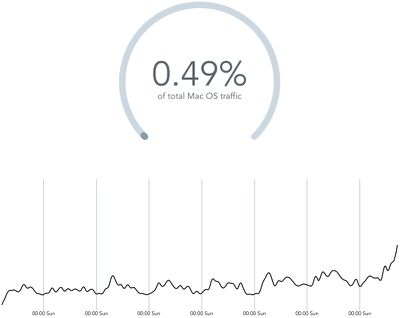 In just over 24 hours, the number of Yosemite users has doubled, and those numbers will likely grow even further today and over the weekend as additional testers download the beta OS. Many users are still having issues downloading the software, which is preventing Yosemite from reaching all prospective beta testers.
Earlier this month, analytics from Chitika suggested developer interest in Yosemite was higher than usual, with early adoption rates outpacing Mavericks adoption rates by a significant margin. High interest in OS X Yosemite can be attributed to both the operating system's redesign with a focus on simplicity and translucency and its new features that offer deep integration with iOS 8, including Continuity.
Last year, OS X Mavericks was adopted at a rapid pace, seeing 7 percent installation in under 24 hours after its public launch. Based on the public beta numbers and the high developer interest, Yosemite adoption may be even more rapid when the software is released to the public this fall.
OS X Yosemite is currently available to registered developers and those who signed up to beta test the software. Beta users who are new to the operating system can check out our first impressions post and get troubleshooting tips and information on Yosemite's new features in our Yosemite forums.
GoSquared's Yosemite numbers are gathered from the percentage of page views across all sites using GoSquared's analytics and updated on a minute-by-minute basis.