OS X Yosemite Beta Usage Beats Mavericks' Pace by 4x as New Features and Look Draw Testers
Apple announced OS X Yosemite last month during its worldwide developers conference and released the first beta version of the operating system to developers at the same time. According to web analytics firm Chitika, developer interest in Yosemite is high with an early adoption rate that is significantly greater than its predecessor OS X Mavericks and still growing.
Overall, the data point to a promising future for OS X Yosemite. In the short term, we expect the operating system's usage share to grow in the wake of the release of the third Developer Preview edition on July 7, 2014. Additionally, with the increased level of developer activity thus far, along with the success of the similarly no cost OS X Mavericks, it's very probable that OS X Yosemite adoption will outpace that of any other previous Mac desktop OS when it is released publicly later this year.
Chitika measured Mac OS X ad impressions from users in the U.S. and Canada between June 2 and July 2, 2014. Adoption of OS X Yosemite rose quickly after release, climbing to 0.15% of total U.S. and Canadian Mac OS X Web traffic in just a few days. In comparison, OS X Mavericks last year took about 30 days to reach only 0.05% of measured web traffic.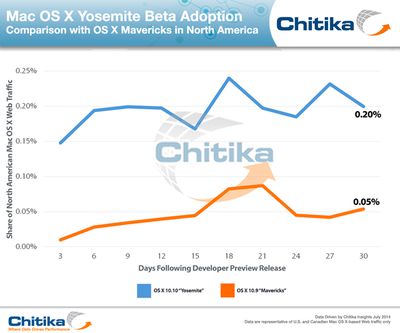 Chitika attributes this higher adoption to curiosity about new features of OS X, especially those collaborative options that tie into iOS. Along with OS X Yosemite, Apple introduced iOS 8 with new continuity features that improve the cross-platform integration of iOS 8 with OS X Yosemite. Most notable is Handoff, which allows users to start a task on one iCloud-enabled device and easily transfer that task to another nearby device without losing changes.