OS X Yosemite Public Beta Now Available via Mac App Store Redemption Codes
In line with yesterday's announcement, Apple today made available a pre-release version of OS X Yosemite to consumers who signed up for the company's OS X public beta program. Public beta program members can access promo codes through the beta program website that allow them to download Yosemite from the Mac App Store for free.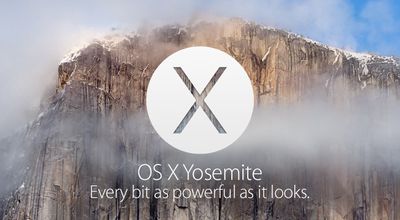 Early reviews of the pre-release build are favorable, with several reviewers noting improvements in Safari, Messaging and Notifications. Notably missing from the beta, however, are the highly anticipated Continuity features that allow for the integration of OS X with an iPhone or iPad running iOS 8, as only Yosemite is included in the program.
To sign up for the beta program, users must have a Mac running OS X Mavericks and need to register with an Apple ID on Apple's website. Apple cautions members to install the OS on a secondary Mac as it is beta software and may cause unexpected errors or other issues. Enrollment in the beta program is limited to the first one million registrants.
MacRumors readers who want to discuss the beta can do so in our Yosemite forum, which has tips on troubleshooting, comments on new features, and more.
Apple is expected to release OS X Yosemite to the general public later this year, possibly following an October event that also may be used to unveil the iWatch and new iPad models.
Update 12:25 PM PT: Some users who have signed up for the Yosemite beta have encountered an error indicating their beta codes have already been used. Apple suggests that users getting that error message refresh the beta program redemption page to generate a new code.