OS X Yosemite Beta Failing to Download for Some Users
After announcing its OS X beta program at WWDC in June, Apple yesterday released the first beta version of the operating system to the public amid favorable reviews. For a growing number of people, the early impressions of OS X have not been positive due to a downloading issue that has prevented the installation of the OS.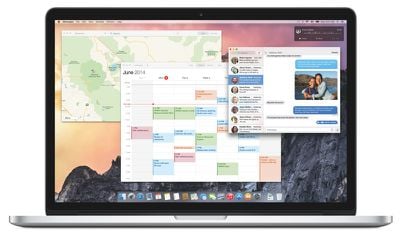 Users in MacRumors forums, Apple support forums and on Reddit have complained about not being able to download OS X Yosemite from the Mac App Store. These users have successfully redeemed a promo code and initiated the installation, only to have it fail during the download process. This issue has persisted more than 24 hours after the beta was released, suggesting it is not a problem with server overload.

Can't get OS X Yosemite to download properly. Maybe it's the limit I can download per month or something. Gonna go to Starbucks and try it. — Micah (Trivol) (@TheMajesticW0lf) July 25, 2014
All Apple's online services are
fully operational
, and Apple support has not mentioned any potential issues that could interfere with OS X downloads. Several users have reported that using a VPN and selecting an alternative country such as Canada has solved the download issue, while others have chosen to delay the install indefinitely.
Apple's beta program has made OS X Yosemite available to up to a million new, non-developer users who now are experiencing the OS for the first time. Beta users can check out our first impressions post as well as our forums for troubleshooting tips, known issues and more.