A Closer Look at 'Handoff' and Other New iOS 8/Yosemite 'Continuity' Features
During yesterday's WWDC keynote, Apple launched several new "Continuity" features to improve the cross-platform integration of iOS 8 and OS X Yosemite. One of the new abilities designed to allow better transitions from iOS devices to Macs is Handoff, which allows users to start a task on one device and swap to another nearby device.
As described by Apple, Handoff can be used for several different activities, including email and web browsing. Users can begin writing an email on an iPhone, for example, and then switch to a Mac to finish. Websites work similarly, allowing users to browse the web on one device, and then continue looking at the same website on another device. While this is already possible via iCloud Tabs, Handoff makes the entire process easier and extends the functionality to other apps.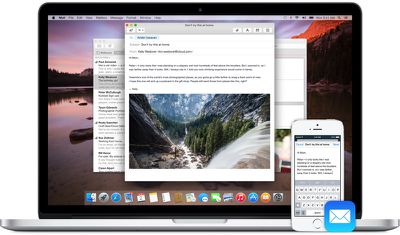 We believe you should be able to use the right device for the moment. We want the transitions between these moments to be as absolutely natural and seamless as possible.

When you're working on your Mac, your devices around you in proximity are aware of each other and are aware of what you're up to.
As demoed during the keynote, iOS devices and Macs are "aware" of each other, and can pick up a task when nearby. When composing an email on a Mac, for example, users will see an icon on the screen of their iPad or iPhone that can be tapped to allow them to continue writing on the iOS device. Similarly, an iPhone near a Mac will cause the activity to automatically pop up on the Mac's dock, allowing for a seamless transition between devices.
Handoff currently works with the following Apple apps: Mail, Safari, Pages, Numbers, Keynote, Maps, Messages, Reminders, Calendar, and Contacts. There's also a Handoff API for developers, which will likely see Handoff capabilities added to a range of different apps.
The enhanced Continuity between OS X and iOS also allows Mac devices in close proximity to an iPhone to both place and receive calls, leveraging Bluetooth and WiFi with the iPhone serving as a relay. Users can answer a call made to their iPhone on their Mac, a useful feature when an iPhone is across the room charging or otherwise inaccessible.
During the keynote, Apple's software chief Craig Federighi used the calling feature to contact new Apple employee Dr. Dre on his Mac, demoing its ability to place calls.
Similarly, iPads and Macs are now able to receive SMS messages from non-Apple devices, a function previously limited to the iPhone. iPads and Macs are also able to utilize an "Instant Hotspot" feature that allows them to connect to an iPhone hotspot with just a click, and AirDrop is also cross-platform.
Currently, Handoff and the other Continuity enhancements are features limited to developers who are using both iOS 8 and OS X Yosemite, but it will be available to the general public in the fall after the official release of the new operating systems.